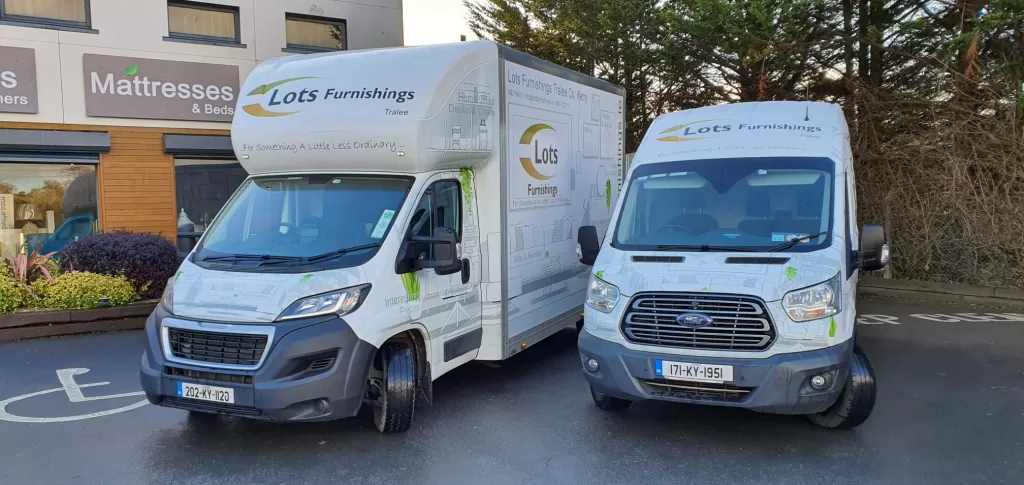 Delivery Service Lead Time (by Lots Furnishings Delivery Team):
Local – Kerry County deliveries 5-15 working days
Nationwide deliveries up to 28 days
Tralee Town & 5 Mile Radius
€12
Kerry
€24
Cork, Limerick, Clare, Tipperary, Waterford
€49
Dublin, Galway, Mayo, Roscommon, Longford, Westmeath, Kildare, Laois, Kilkenny, Carlow, Wexford, Sligo, Leitrim, Cavan, Monaghan, Louth Wicklow
€99
Orders over €750 (excluding sale items)
Free Nationwide Delivery
Urgent Out Of Hour Deliveries Available
Nationwide: €159
Kerry: €49
Munster: €99
For small and light items we use local An Post courier services (Lead Time 1-5 days):
*Small Items €10 ( small wall art, lamps, light accessories.)
*Medium Items €15 (medium wall art, floor lamps, and office chairs)
*Large Items €25 (big pictures, canvasses, some mirrors)
In some cases we have to adjust shipping charge (if few items are bought together, height quality shipping required, ect… ), in those cases we advice to send us an email to sales@lotsfurnishings.ie and we will clarify the cost.
Click & Collect
Click and collect purchases (Click on the option COLLECT IN STORE at the checkout) are normally available for collection the next working day after the day of transaction unless otherwise stated. You will get a confirmation mail to confirm the purchase has been made and you will get a follow up mail confirming the item is ready for collection once the warehouse has confirmed the item is ready for collection. There is no extra charge for click and collect purchases. Items requiring Lots Furnishings delivery or courier delivery will incur an additional cost depending on the item size category and delivery requirements (immediate or scheduled). The delivery charges are outlined on the checkout page and also under delivery charges below which are subject to change without notice.
Delivery /Storage / Dated delivery / Delivery times
Once you complete your transaction online we will get the wheels in motion to get your delivery out at the earliest opportunity. Courier size items such as a lamp (will be indicated under item details) will normally be sent out within 2 working days. Local Lots Delivery items such as a sofa will be scheduled with the next available delivery run which runs 5-15 working day schedule. Nationwide Deliveries are scheduled for up to 28 day delivery time. Please note that special order items will only be placed on the scheduled delivery run once received into our warehouse. You will be notified well in advance of the proposed delivery date and we will endeavor to give you an accurate delivery time as possible however this may not always be possible and may be morning afternoon or evening. NO SHOW deliveries (where the no one is available to accept delivery) will incur a repeat delivery charge which is twice the normal delivery charge due to repeat handling of the products and the loss of other products being delivered on the run. If you are not in a position to accept delivery of a purchased item immediately we offer a free storage facility for a period of 1 month from the purchase date. There will be a storage charge per item after 1 month has passed. If a scheduled delivery has to be changed please inform us 24 hours in advance as deliveries are allocated and loaded up to 2 days in advance. Deliveries which are cancelled at less than 24 hours' notice will incur a repeat delivery charge. Please note items that are delivered within a building are done so at the customer's risk. While every care and attention will be taken with Items delivered by Lots Furnishings delivery team we or our delivery team will not accept any responsibility to any damage done to either the building or the item during the delivery if the items are delivered indoors.
PLEASE CONTACT US IF YOU HAVE ANY QUESTIONS ON 066 7127117, What's App 087 7933252, or email at sales@lotsfurnishings.ie.